An Unforgettable Wildlife Adventure Tour Awaits
 A popular use of the Aolani is watching marine life from aboard our beautiful catamaran, for an unforgettable day cruise. San Diego offers amazing opportunities for close encounters, and aboard the Aolani is about as close as you can get! Because of the Aolani's unique versatility, we can use our powerful, twin turbo diesel engines to get you out to the open ocean twice as fast as a conventional sailboat, and then cut the engines for the tranquility and calm necessary to view the glorious San Diego marine life from an intimate vantage point of Gray, finback, humpback, and even blue whales can be commonly found in the area, as well as dolphins, seals, and various other marine creatures.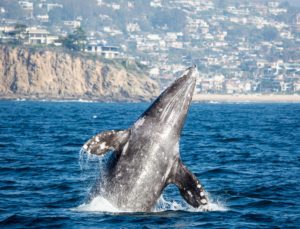 While November through April is the peak season for blue-whale watching in this part of the Pacific Ocean, the beautiful San Diego weather can accommodate marine-life viewing all year round. Our dual-hull catamaran ensures a stable, safe and smooth ride for your whale watching excursion every time, so you'll enjoy your expedition with minimal turbulence. The Aolani is a clean, non-intrusive option for viewing the wildlife of the San Diego Bay while ensuring the safety and comfort of our guests. Make the most of the natural treasures of the San Diego area, and book a day cruise with Aolani today!